The Jersey Shore's Vinny Guadagnino is hitting the college-circuit these days. But instead of teaching a course on The Good Life (a.k.a. Gym! Tanning! Laundry!), the fist-pumper is talking to undergrads about a life of good.
Vinny G. hit up Twitter after giving one Columbia University classroom the low-down on bullying. According to a student present, "The thrust of his speech…was about how we can all set good examples in the world, stop violence before it escalates, and be models for polite society." In short, Guadagnino, like Gaga, is on a mission to promote acceptance, tolerance, bravery and love. Teaming up with Do Something for the classroom drop-in, Vinny G. steered clear of silly Jersey Shore questions and kept the conversation light but serious, telling the Ivy Leaguers the importance of doing right by others.
How's he the expert on bullying? Well, believe it or not, Guadagnino was once the pit of everyone's jokes. He recently told MTV News that popular girls would often "make fun of me, and it would really hurt me, because you don't want the girls thinking that you're a loser." He's turned those experiences into action, and who knows, maybe he'll make it onto your campus soon! Bet that'll get you on the fist-pump train…
take action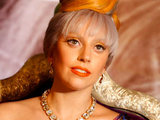 Born This Way Foundation
Sign up for The Born This Way Foundation
take action
Support Vinny on Twitter
Give Vinny a Shout Out for doing good on Twitter!