NOH8 is getting lots of love from the Shore! JWOWW recently posed for the marriage equality campaign, and now Vinny Guadagnino has jumped on board. With his pics now out, he spoke to MTV Act about his involvement.
Vinny's a big supporter in LGBT rights (and everyone's rights in general) so this was a perf campaign for him to get involved in. I spoke to him about why he got involved, how to deal with homophobic comments, and the most unexpected thing about "The Show with Vinny." Another topic of  our convo? Which celeb is Vinny's guy crush, and why this guy should totally go on Vinny's show, premiering Thursday, May 2 at 10/9c.
Photo: Vinny posing for the NOH8 campaign. P.S. Who doesn't like a tattoo peeking out of a T-shirt?! (Adam Bouska)
ACT: Why was it important for you to get involved with the NOH8 campaign?
VINNY: Well, it definitely caught my attention. I saw this movement, and I didn't know what it was at first. Then I found out it was to support equality and rights. I'm always down for that. I wanted to be part of the movement, and I liked the whole idea behind it, where you take that cool picture and you almost become part of a little club. I do a lot of pro-social stuff, like I attend the GLAAD Awards every year. I just did the NewNowNext Awards. I'm always down to support a good cause and NOH8 was one of them.
Photo: Vinny attending the GLAAD Media Awards last month. (Getty)
ACT: How can people join you to support marriage equality?
VINNY: It's awareness. That's what NOH8 is about. When you have something so massive, like a massive amount of people sharing the same message, eventually it's going to develop awareness. People's voices will be heard.
ACT: We know that JWOWW was in the NOH8 campaign, and she said that she and Snooki would walk in New York City's Gay Pride Parade in June. Would you do it, too?

VINNY: Of course. When people ask me, "Would you do stuff with gay people?" or "What's your favorite gay movie?" or "Who are your gay friends?" I have a hard time answering them. Because I really don't label people as gay. They're just people to me. I have friends who are gay and I don't care. I have my own stuff and everyone has their own thing. It's just their thing.

ACT: Homophobic comments happen a lot in real life and online. Do you have any thoughts on how to address that?
VINNY: It's like anything else. If you know it's offensive, just don't do it. I know nowadays some words are thrown around that can seem as though they're harmless and they don't affect certain people. But, if you think about it, if someone just got jumped or killed while people were yelling that same word at them, you can probably find another word to use. You know what I mean?
I'm from Staten Island and people throw around words all the time, and they're just not offensive to any certain person. They're just what we do on the street, like when playing basketball. But, again, if you really think about it, and people do get offended by it, there are plenty of other words you can use as derogatory terms to each other when you're playing basketball.

ACT: What's something you've done on your new TV show that you never thought you'd do?
VINNY: Skateboarding. I never thought I would skateboard, but I was skateboarding with Lil Wayne. But the whole show itself is something I never thought I'd do, because I never thought I'd have Lil Wayne in my house. I never thought I'd have Jenny McCarthy in my bed. I never thought I'd be pouring glitter on my Uncle Nino with Ke$ha. But to be specific, skateboarding!
Photo: A glittery Uncle Nino, Vinny and Ke$ha. (Instagram)
ACT: We know you're straight, but do you have a guy crush on someone, like Ryan Gosling?
VINNY: [laughs] Well, I am definitely straight and I'm physically attracted to women. But I would say if I had to have a guy crush, it'd be on Denzel [Washington]. Denzel — I watch every movie he's in. I think he's the coolest thing. I'd love to have him on my show. I think he's the man.
take action
Send in a Pic!
Send in a pic to the NOH8 campaign!
take action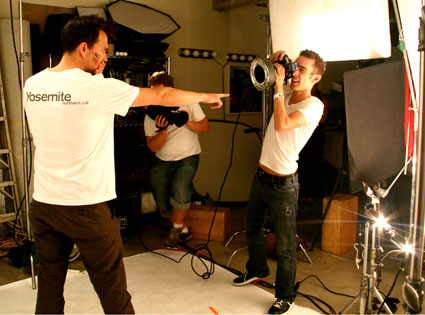 Spread NOH8
Shop the NOH8 store and spread the word about equal rights.