Would you pay money to have "Vampire Diaries" star Nina Dobrev bite you? Someone else did. And their friends can't say it's weird, because it was done for a good reason — fighting AIDS.
'Member when Janet Jackson tweeted about going to amfAR's annual HIV/AIDS-fighting gala in France? Well, the big gala is over, and it was a mega success. Part of the gala included a very unique auction, but that's just another part of this annual event.
This year, Nina Dobrev offered up a love bite, Heidi Klum let people bid on getting a massage from her, and Diane Kruger "donated the services of her boyfriend Joshua Jackson." Dare we ask what kind of services?
But that's not all. There was also bidding on who would get to be in a short film by designer Karl Lagerfeld and produced by mega producer Harvey Weinstein. That got bid on twice, and the final result was (wait for it)…ONE MILLION DOLLARS!
In the end, they raked in just under $11 million, a new record and a reason to celebrate. *tosses confetti* Most of us wouldn't be able to bet such high numbers (tempting as those prizes are), but that doesn't mean we can't also pitch in to help fight AIDS. You can hook up with amfAR to support their research, volunteer your time or participate in an event. You can also educate yourself on AIDS and remember to wear a condom to keep yourself protected during sex. What about creating your own panel on the digital (2015)QUILT? The panels are from people all over the globe who are fighting to end AIDS in 2015 — which would mark the first AIDS free generation in 30 years. Pretty epic, right? Together we can make AIDS history!
take action
Add to the 2015 Quilt
Upload your picture and add it to ONE & (RED)'s (2015)Quilt to show your support for an AIDS free generation by 2012.
take action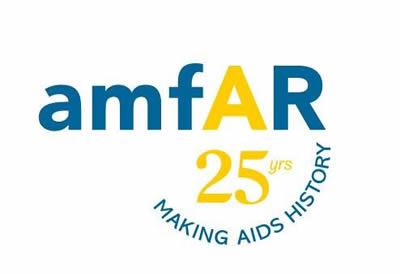 amfAR
Help fight AIDS with amfAR!