While many music videos tend to ditch reality for fantasy clubs where everybody mysteriously knows the same choreography, Australian DJ and producer tyDi's "Glow In The Dark" featuring Kerli is an honest portrayal of the real issues that many young people face today.
The video hits home for anyone who's been, well, hurt. It tackles bullying, discrimination, depression and self-harm through scenes of kids going through situations that seem all too familiar. There is a light at the end of each scene though — one that includes kindess. Don't want to give it all away tho. You have to watch the video below!
+Watch tyDi featuring Kerli "Glow In The Dark" video.

Amazing video right? And in case you're wondering more about tyDi, he has played festivals with the likes of Paul Van Dyk and Armin Van Buuren. He's also been ranked #48 on DJ Mag's Top 100 DJs list last year! We recently caught up with the hot Aussie to chat about the song and the true purpose of his music video.
MTV ACT: Your video for "Glow in the Dark" is so haunting and touching! How did the idea for the video come about?
TYDI: The concept for the video was something that evolved over time. When Kerli and I wrote the song together, we wanted it to have a positive message. It's all about making the best out of a situation and shining through the darkness. I wanted to show that a small favor or kind gesture to someone can snowball onto others. All the characters in the video are linked by an act of kindness and positivity that carries across various situations.
ACT: Your video raises awareness on issues such as equality, abuse, drugs, and self-harm. How can your fans help shine a light on these issues too?
TYDI: Raising awareness is one thing, but the true purpose of this video is inspire people to be kind to one another. It's crazy that in 2012 we still live in a world full of inequality, but organizations like To Write Love On Her Arms and NoH8 are making a big difference.
ACT: Speaking of fans, how have your fans reacted to the video?
TYDI: The fans responses to the song and video have been phenomenal. We had 10,000 views within the first 12 hours!
ACT: Who would you love to collaborate on a song with in 2013?
TYDI: Bert, the lead singer from a The Used. His voice is incredible.
ACT: At 25 years old, you've been all over the world. What's one of the coolest places you've been to, and why?
TYDI: I love it when I play shows at beachy places like Hawaii, Bali or Miami. I grew up by the ocean so it's always feels great to wake up to the sounds of waves crashing.
take action
Learn About TWLOHA
Learn about organization To Write Love On Her Arms and how you can get involved.
take action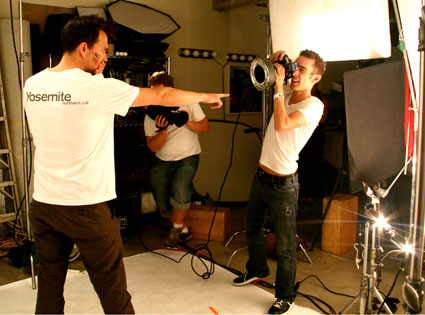 Spread NOH8
Shop the NOH8 store and spread the word about equal rights.