After 17 years of fab figure skating, 29-year-old U.S. Olympian Johnny Weir is trading his skates in for a microphone. The openly gay athlete will be announcing for NBC at 2014 Winter Olympics in Sochi, Russia, amid controversy over the nation's strict anti-LGBTQ laws.
+ Johnny Weir Represents At The Event
"I'm a gay American. I've married into a Russian family," he told Matt Lauer and Savannah Guthrie on "The Today Show," referring to how he feels about his awkwardly located hosting gig. "I've been a longtime supporter of Russia, the culture, the country, the language, everything about Russia. … While this law is a terrible thing that you can't be gay publicly in Russia, I plan to be there in full support of our brothers and sisters there and not be afraid."
While many activists are calling for a Sochi Olympics boycott, Weir is one of many people who think it's important for anyone who supports the LGBTQ community to show up. "If I get arrested, I get arrested; if not, great, but our presence is needed. For all the Olympians that worked so hard, a boycott is just the worst thing that you could do to all these young people," he said.
Kerry Washington, Sophia Bush and George Takei are a few other celebs who have also taken a stand against Russia's anti-LGBTQ laws. And you KNOW Madonna and Lady Gaga are in on it, too.
+ Lada Gaga Was Born This Way
"The Russian government is criminal," Tweeted Gaga. "Oppression will be met with revolution. Russian LGBTs you are not alone. We will fight for your freedom." Gaga's a longtime supporter of the LGBTQ community. Her Born This Way Foundation reminds Little Monsters to love each other unconditionally regardless of physical appearance and sexual orientation. I say we petition to make "Born This Way" the 2014 Winter Olympics' theme song!
+ Madonna Fights Intolerance With Love
Madonna recently spoke out against Russia's crackdown on LGBTQ allies and activists saying, "It's a very strange time in the world. I'm traveling around the world, and I feel it in the air. … I feel people are becoming more and more afraid of people who are different; people are becoming more and more intolerant … but we can make a difference. We can change this. We have the power. And we don't have to do it with violence; we just have to do it with love." Madonna is a icon within the gay community and has always used her fame to raise love and awareness for the LGBTQ community.
Props to all of these celebs for standing up for fairness, equality and love! Click the action links below to let us know which person you wanna couples ice skate/take action with. We're sure the costumes would be fab.
take action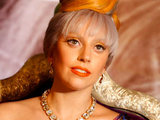 Team Gaga
Check out the Born This Way Foundation if you believe everyone should be loved for who they are and who they choose to love.
take action
Love Is Louder
Join the Love Is Louder Movement and spread the anti-hate message!