Proof that Pharrell hasn't aged much in 40 years.
Pharrell Williams announced a new hat line album that is set to release in less than ONE month! Although he didn't quite pull a Beyoncé and drop an album out of nowhere, his album did come as a bit of a surprise.
G-I-R-L will be his second solo album, and we can only imagine the amount of star power that he collaborated with on it!

Pharrell on a music video set in 2001 with Brandy, Lil' Kim and Ray J.
Born in Virginia, Pharrell became interested in his passion for music at a young age. After attending summer band camp and becoming a part of his school's marching band, he met bandmate Chad Hugo and they would go on to create the hit-making group The Neptunes and later on, N.E.R.D.
Pharrell channeling his inner N.E.R.D. back in 2002.
Besides his passion for music, he's dedicated to making a big diff in the world. As a huge supporter of education, he wrote about supporting teachers around the country. Pharrell said: "working together we can continue to support teachers, students, school administrators and other leaders who want our children to have the best possible opportunities for success." #LoveIt

Pharrell was all about that BlackBerry life in 2007.
Along with education, there are other ways the Grammy-winning songwriter, producer and rapper has paid it forward. One in particular, was a red-carpet look that included a bracelet for a terminally ill girl. Giuliana Rancic asked him what the bracelet was for, and the handsome Pharrell explained, "There's a bracelet that was made by a girl who has terminal cancer. Her name is Serena, and it says 'hope.'"

Baby Pharrell kicking it with Jay Z in 2003.
Pharrell is launching a denim line this summer that will save oceans, and he spoke up about gun violence and the Jordan Davis case.

Pharrell striking a pose at a P. Diddy party in 2001.
When talking about the new album he said, "When Columbia Records presented me with the opportunity to make an album, three things came to mind. One was the sense of overwhelming honor that I felt when I realized that they were interested in partnering with me on the album that I had always dreamt of making. Two, it would have to feel festive and urgent. And three, I instantly knew it would be called G I R L. I hope you like it."

Pharrell visiting TRL back in 2005.
Pharrell's hit single "Happy" will appear on the upcoming album, and if the rest of the songs are anything like it, this will be one feel-good, can't-stop-smilin' album!

Pharrell and Gwen Stefani at the 2005 American Music Awards.
Photos: (Getty, Instagram)
take action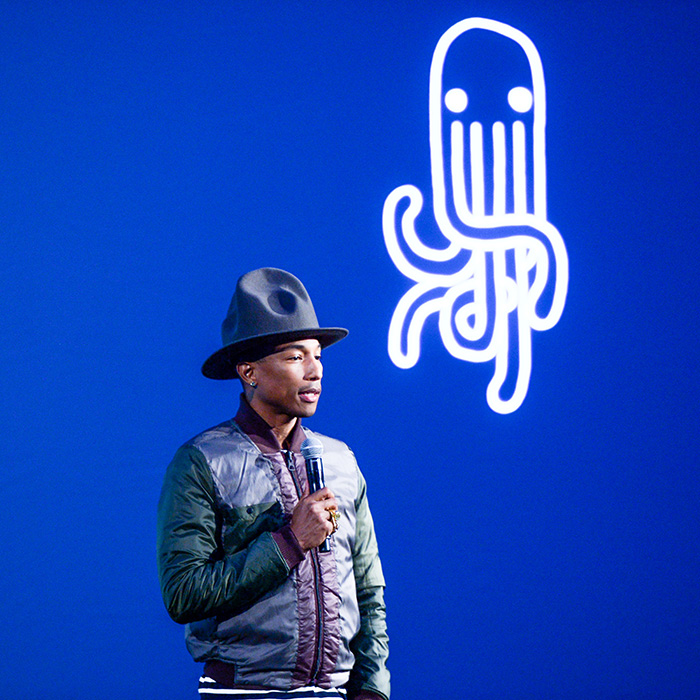 Raw For The Oceans
Learn more about Pharrell's stylish and eco-friendly fashion line with G-Star.
take action

Save The Music
Become a Save the Music advocate and get music back in the classroom