Yes, U2 are the kings of the power anthem. They are living legends. They have won 22 Grammys, sold over 150 million records and were inducted into the Rock & Roll Hall of Fame (the first year they were eligible for induction). Could this band get any greater?! Well, obvi. They're also known for their effective philanthropy work. Bono is one of the biggest AIDS activists out there. The Edge is also involved with giving back — he's co-founder of Music Rising, an org that replaces music instruments lost or destroyed in Hurricane Katrina. He's also the creator of a very touching documentary airing on MTV tonight at 8/7c, called "The Break" about youth homelessness.
"The Break" is hosted by Anne Malchum, founder of Back on my Feet, a non-profit that helps homeless people across the country gain independence and self-sufficiency by using running to help them build confidence and strength. In the doc, Anne helps out three young folks — Ava, Nancy, and Rob, all living on the streets, with getting back on their feet. These three are not alone as over 1.5 million young people are without a home, any given night in America.
The film really humanizes youth homelessness as more often than not, we ignore their signs and yells of help on the street or are not sure how to help them. When I walk past a homeless person I always wonder: Should I give him money? Buy her a meal? Maybe I should sit down and talk to them? Thanks to Anne and The Edge, they're shedding light on an everyday, important issue.
We had an opportunity to interview The Edge about his new doc, which he said was an idea of his since 2006. "I asked myself a lot of questions about whether there was some idea, something that could be done in a TV context," he explains in the clip below.
In this video clip, The Edge said that all it takes to make a difference is the human touch. "There's no simple fix but you can just describe it as the support system that most of us enjoy, through family, through friends, through colleagues," he said. "When that's taken away, it's very easy for somebody to fall into homelessness and simply putting that back in place, engaging with somebody, helping them to connect with other people, is a really effective way of taking somebody out of that situation."
The Edge composed and performed the music for "The Break." He said he wrote the main song for the film, "No Home Like Place" after a homeless man in Dublin. It's a fascinating story, as he explains below.
"This is something I really believe in so I was very happy to do some music for it," said The Edge about making music for the film. "No Home Like Place came together actually very quickly. I wish the rest of the U2 songs were that easy to write," he joked in the video below.
In our last clip, The Edge recommends resources to help the homeless such as the Covenant House, an org that's been helping the homeless since 1972.
take action
Support Back on my Feet
Donate money or give your time by volunteering with Back on My Feet!
take action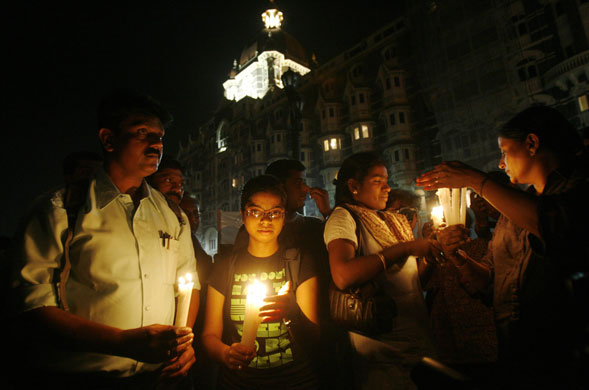 Light a Candle
Real or virtual, your support can help Covenant House provide services and assistance to homeless youth in America.