Yesterday, Lady Gaga announced that she and her own mama, Cynthia Germanotta, have launched the Born This Way Foundation in order to combat bullying by promoting "tolerance, and acceptance." Time to put your paws up for Mother Monster!
Gagaloo tweeted the news to her fans late last night, pictured below. The foundation will give young people the tools they need to "establish a standard of Bravery and Kindness, as well as a community worldwide that protects and nurtures others in the face of bullying and abandonment," said Gaga.
Mother Monster's no stranger to standing up for the bullied. With her new foundation, she'll connect with young people via technology in the hopes of busting bullying for good. Ga-Ga-ooh-la-la!
take action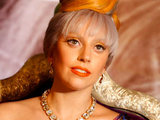 Born This Way Foundation
Sign up for The Born This Way Foundation
take action
Fight Digital Abuse
Fight digital abuse with A Thin Line!