All the airbrushed images in the media and all the "perfect" bodies in the entertainment world can make a person feel pretty insecure about their own looks. Teen singing sensation Lorde takes a more honest approach to looks and talks about reality, not airbrushing.
Even celebrities know what it feels like to have a bad breakout. Lorde Tweeted:
acne struggle PARTICULARLY real today

— Lorde (@lordemusic) March 2, 2014
Lorde also has an understanding that it can be stressful to feel you have to look a certain way and feel judged if you don't.
"Just the other day this guy who I don't know but who I have mutual friends with posted a photo of … me at the beach," she said in a Rookie interview in January. "This guy is quite famous on Facebook and Tumblr and stuff, and suddenly there were like hundreds of people from my city looking at my picture and making fun of me [in the comments]. That affected me much more than it should have, because I was transported back to high school, when you get to school and everyone has been talking about something that happened to you maybe the night before or whatever, and straightaway you feel like you're on the outside of something."
But she has words of advice on how not to take that stuff too seriously. "Just take pride in what you do. Take photos of yourself wearing super-weird clothes and love how it looks and be happy with that and be happy if other people hate them, 'cause sometimes there's some fun in that too."
take action
Get Help
Check out HalfofUs.org for ways to confront self-esteem and body image issues.
take action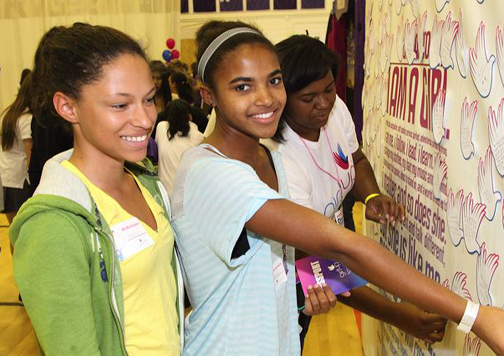 GirlUp
Help girls get ahead in their communities so they can build a life based on positive self-esteem. Like GirlUp on Facebook.