Crazy cat ladies 'round the world have been wildly celebrating a reprieve from judgment this week, as Kristen Bell effectively took one for the animal-freak team by coining a new kind of cuckoo: the Crazy Sloth Lady. And, of course, by "crazy," we mean "amazing."
Kristen came clean of her own accord on the "Ellen" show earlier this week, explaining that her love of sloths cannot be contained by mere tear ducts. Not even a little. She shared a home video from her 31st birthday last summer, when fiance Dax Shepherd presented a surprise party guest — Kristen's favorite animal, the adorable sloth. The range of emotions is … stunning. See for yourself in the video clip below.
Shamelessly in love with a tree sloth (and let's be honest, all the more lovable for it), the TV star (also, a vegetarian for 20 years) has been flooded with fan mail and slothy twitpics since then, which brings us to … today's Sweet Tweet, an expression of gratitude for those who embrace her quirks:
you guys are so sweet. it was scary 2 show an ugly cry video but i am so glad if u got a laugh from watching- thats what i was hoping!!! xo

— Kristen Bell(@IMKristenBell) January 31, 2012
Being real takes moxy, doesn't it? Now, the scary news: The adorable sloth is also endangered. It's up to us humans to preserve its natural habitat, so sign the petition below as a show of support. Not only will it make sloths happy, it will surely make Kristen happy — which is a good thing, since I'm not sure she could survive a case of the sads, given what "excited" looks like.
take action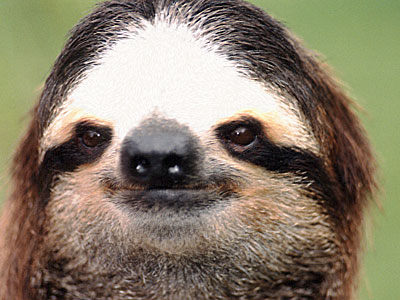 Save the Sloths!
Sign this care2 petition to help protect the endangered sloth's habitat.
take action
Go Veg
Considering dropping the meat in your diet? Go full throttle — or bit by bit. Here are some tips from PETA on veggie living.