It's Monday, which means it's the officially the second day of fall (Dear summer, I already miss you). Also, tonight marks the second episode of "Dancing With the Stars" Season 17 (YUP, there have really been 17 seasons.) and Nicole "Snooki" Polizzi gave us the deets on her experience so far on the show!
I kicked it with with Snooks a few days ago at a photo shoot for the NOH8 campaign, which is all promoting marriage, gender and human equality for all. On the shoot, we geeked out about DWTS.
She said the vibe on set is like family and she's "making new friends." Snooks showed lots of love for her fellow amateur dancers, calling Leah Rimini "real," Amber Riley "fierce" and Bill Nye "hysterical." And what about Valerie Harper, who is battling a rare type of terminal brain cancer? Snooki says she's an "inspiration." Added Snooki: "She's beating cancer. And she's dancing. And she's amazing. She just makes sure everybody is in good spirits. She always worries about everybody else more than herself."
Watch Snooki in the video below talk more on her competition, her new nickname, "Pocket Rocket," courtesy of judge Len Goodman and how she calms her nerves before she gets on the floor!
+ Watch Snooki Discuss "Dancing With The Stars."
"I thought it was a dog's penis. I guess it's a vibrator? But that's good because I did the cha-cha, and I guess I moved like a vibrator," explained Snooki about her hilarious nickname. Love how Snooki has an optimistic outlook on her moniker. I totally applaud her attitude too. "I'm just in this competition for fun," she said. So important to have fun and not stress — whether you're dancing on national TV or not! If you want to spread the love like Snooki, take action with the widgets below and be sure to support Snooki on DWTS tonight on ABC at 8/7c.
take action
Love Is Louder
Join the Love Is Louder Movement and spread the anti-hate message.
take action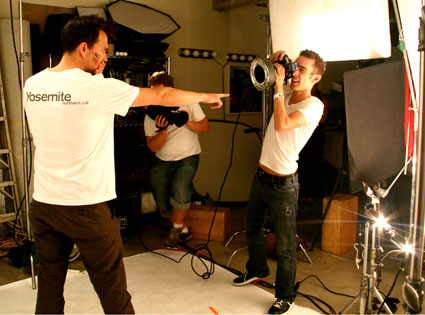 Spread NOH8
Shop the NOH8 store and spread the word about equal rights.