I AM STILL ON A HIGH FROM MY WEEKEND, YOU GUYS. The One Young World Summit in Pittsburgh, PA, was exactly what I needed at a time when Malala was making international headlines, the struggling economy continued to steal the show at debates, and cities like Chicago were getting my attention for all the wrong reasons. But rest assured, all is getting better in the world thanks to young people everywhere!
We spent four days in Pittsburgh for the Summit — which we live-streamed all weekend — and thought we'd share some of the most memorable, amazing moments from our time there, in case you missed it! Here's what we learned.
+ There is hope in parts of all over the world!
We hear it all the time — on the evening news, headlines online and in print. Every where we look, someone somewhere is struggling to find clean water, to recover from an earthquake, to gain equal protection under their country's law. But from we saw in Pittsburgh this weekend, there is also someone somewhere fighting to provide clean water, helping communities rebuild, and speaking up for the silenced.
1,200 youth mostly between 18 and 25 years old from over 190 countries proved that there is plenty of light shining on some of the world's toughest issues. One of the weekend's highlights: watching the opening ceremony with every flag represented making its way on stage! Watch below:
+ Malala is a hero worldwide.
Everyone was thinking of Malala. The morning the session on education began, there was word that Malala was responsive and able to stand on her two feet. If you don't know about Malala's story yet, you've got some catching up to do. To learn more, or to help fund Malala's education, take action with Indiegogo at the end of this post!
+ Some people are gay. Get over it.
"The human rights of LGBT people are violated all over the world and I believe it is my duty to do something about that.  Homosexual acts are illegal in 77 of over 190 countries around the world. We have to change that," Simon Rodgers, a delegate from the UK, told us. Simon, who presented during the human rights portion of the Summit with Carolina Bonin of Germany, shared that his presentation on LGBT rights had an "amazing" response from delegates. "Hundreds of delegates have spoken to me in support of my speech and in support of LGBT people."
One of the responses caught everyone off guard. In one of the most moving moments at OYW, an unidentified Middle Eastern delegate who identified as LGBT opted to have another delegate read their commentary out of fear because "I'd be asking to be killed" if they acknowledged their sexuality publicly on camera.
Simon added, "I cannot and will not rest until I know that people like me who identify as LGBT are safe and protected by laws rather than in fear of them," acknowledging that we've all got work to do.
His presentation partner Carolina tells us, "Each one of us should wish for the person next to us, the same we wish for ourselves. For that we need to work on education in a sense that doesn't include only reading and writing, but the learning of moral values and the care for our world and others living in it. Nobody needs to change the world alone. But if each of us teach 'love' to the ones next to us and bring examples of the values I talked about, we all will be building a new mind-set in the world, which will lead us all to a society where everyone has the very same rights and possibilities to live a fulfilled life."
Watch Carolina and Simon address the OYW delegates below:
+ Entrepreneurship is key.
Nobel Peace Prize winner and micro-credit pioneer Muhammad Yunus, Twitter co-founder Jack Dorsey, and even former Colombian President Alvaro Uribe made a strong case that entrepreneurship provided many opportunities for youth to not only lead successful lives, but to make a difference while doing so. See some of the attendees responses to their speeches below:
"My first rule in business: I don't want to make money. I want to solve problems." -- @yunus_centre at #OYW

— Alanda Kariza (@AlandaKariza) October 19, 2012
Having seen development and #entrepreneurship in Colombia this Summer, glad to see fmr. Pres Uribe supporting youth so vocally. #OYW

— Antoine Pouliot (@AntoinePouliot) October 21, 2012
Uribe at #OYW: We must promote creativity, social entrepreneurism + education in order to empower youth.

— Jose m iniguez (@imJmi) October 21, 2012
"This is the challenge: each of you can design a #socialbusiness." –Muhammad @yunus_centre to @oneyoungworld #OYW

— david jones (@davidjoneshavas) October 19, 2012
Muhammad Yunus tells us to redesign the system and make the word #unemployment non-existent, very inspiring, we welcome you to #OYW #havasww

— Chuck Fletcher (@chuckfletcher) October 19, 2012
+ You can make a difference in your own backyard.
We sometimes have the ability to make a HUGE difference while simply walking down the street. Chris Senesi, a delegate from Boulder, Colorado, presented about youth homeless — particularly those caught in the criminal justice system. As he put it, "It goes a long way to just sit down and talk with a homeless youth. It absolutely means the world to them, I assure you."
He explains:
I have been working with homeless and at-risk youth for over seven years now and what I have seen is that this issue is not just about being "homeless", but that it is about suffering from loneliness. Many of these youth become homeless due to physical and sexual abuse by their parents as well as poor family structure and therefore, run away or our kicked out by their parents. They have no one to turn to and no one to support them. As a result, these youth lose self-value and confidence and will most likely get stuck in homelessness/street life culture. We need to bring awareness to this issue. No youth in our country and around the world should go to bed alone. These youth just need the compassion from others, people to be there for them and to let them know that someone cares.
Aaaand with that, I'm never walking past a homeless person without acknowledging them. EVER. AGAIN.
+ "You don't need to be in orbit to have an orbital view."
Astronaut Ron Garan had one of the weekend's best speeches. Hands down. Period. Done. No discussion. Bye.
So now that you don't have to "be in orbit to have an orbital view," what're you waiting for?! Check out how you can be a part of One Young World next year, and help fund Malala's scholarship below!
take action
Follow OYW
Follow @OneYoungWorld on Twitter and stay in touch about future summits!
take action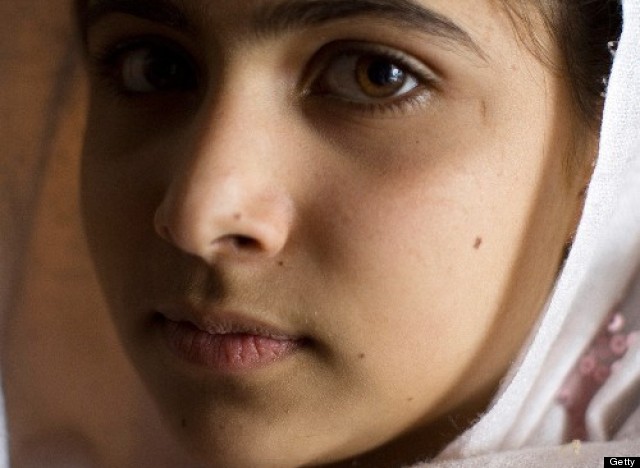 Support Malala's Education
Learn more about Malala with this NY Times video and consider donating to her fund.