Over 140 children will be able to receive their day's worth of food FOR A WHOLE MONTH, thanks to everyone that participated in our MTV Fights Hunger Auction! Earlier this month, we posted items from Snooki, Rob Dyrdek, Mac Miller, and even tickets to MTV's New Year's Eve celebration in Times Square. For 10 days, you bid, bid, bid. The fundraising total is in, and we raised (drum roll)……
$4,235.67!
Proceeds from that total will go to USAID and The Ad Council's FWD Campaign through World Vision. With $10 feeding a child for 10 days in the drought and war ravaged area of East Africa, the amount raised will certainly go a long way. Heck, simply forwarding the facts goes a long way! (FWD the facts by taking action below.)
Even in our own backyards, while certainly not to the extent of that in East Africa, children and families are going to bed hungry all across America. You can help here, too, without costing you a single dime! Here are a few ideas:
+ Donate canned goods. Go through your pantry for any extra/spare/unwanted/overstocked canned foods that you can donate to a local shelter or drop off at a food drive.
+ Volunteer at a soup kitchen. Contact your local soup kitchen and/or food bank and sign up to volunteer. The holidays (and winter in general) tend to get busy.
+ Spread awareness with a Virtual Food Drive. Email, tweet, message, text, whateva. Let all your friends know about how they can help fight hunger here at home. Whether or not they donate, you're making them aware of an issue affecting people in our own backyards.
If you were lucky to walk away with an item from our auction, submit your payment and enjoy! Email us at act(at)mtv.com if you have any questions. What are some other ways you've helped fight hunger in your community? Tweet us at @MTVact.
take action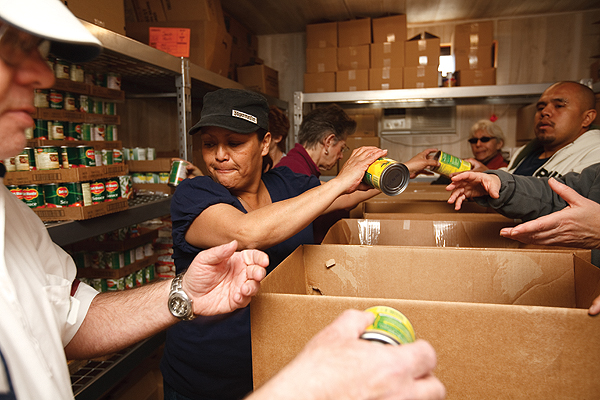 Launch A Virtual Food Drive
Spread awareness and set a fundraising goal to help fight hunger with Feeding America.
take action
FWD the Facts
The FWD campaign wants you to forward info about 13 million people suffering famine, drought and war in the Horn of Africa.