Model Miranda Kerr has got the key to cracking the most important "Girl Code" of all: How to be confident.
The Aussie beauty, and wife of actor Orlando Bloom, took some time out recently to share tips on how women can "Step Up" their confidence quotient. It's all about embracing your uniqueness, Kerr emphasized. "What I'm trying to encourage women is that it's good to be authentic, it's good to be different. … We all bring something different to the table so let's embrace that."
+ Watch Miranda Kerr cares about your confidence.
And to spread the message, the model mommy shut down Times Square with Gillette Venus, walking a long blue carpet to help raise money for the Step Up Women's Network, an organization dedicated to helping girls reach their full potential. After Kerr walked down the carpet (Like it was a catwalk!), she encouraged Times Square passersby to strut their own confident steps, with each walk raising $1 for the Step Up Women's Network. The blue carpet has also made stops in Atlanta and Miami and will be in Los Angeles on June 20. Even if you don't live in these cities, you can get involved right now by tweeting #StepUp. Each time you use this hashtag by June 20, $1 will go to the Step Up Women's Network. So go out and werk it on the carpet or Twitter, Miranda Kerr-style!
Photo: Miranda looking flawless on the blue carpet. (Getty)
take action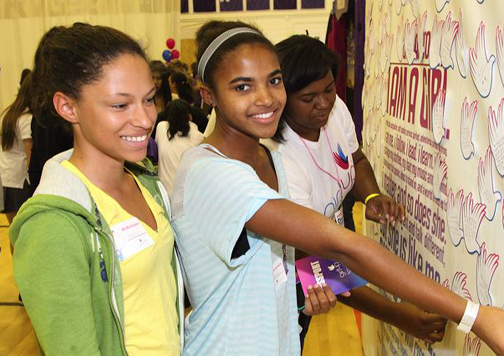 GirlUp
Help girls get ahead in their communities so they can build a life based on positive self-esteem. Like GirlUp on Facebook.