Josh Hutcherson is the latest A-Lister to strike a pose for the NOH8 Campaign! The "Hunger Games" stud muffin is not shy when it comes to supporting marriage equality. Back in August he told me, "I have always believed in standing up for what I believe in and I believe that everyone deserves the right to love whoever they love no matter who they are." Can we get an amen?
Josh was accompanied by fellow Straight But Not Narrow co-founders Avan Jogia, Andre Pochon, and Heather Wilk, whose org works to unite straight allies around the world to stand up and support the LGBT community. The NOH8 Campaign began after the 2008 passing of Prop and started by LA based photographer Adam Bouska as well as his partner Jeff Parshley. Today, over 30,000 have joined the silent protest in order to raise awareness for equality. So rad to see Josh and Avan lending their studly looks to the campaign!
And as if Josh wasn't already making us swoon with the photo, did you all hear that the "Catching Fire" teaser trailer is airing at the 2013 MTV Movie Awards? OMGahhh.
take action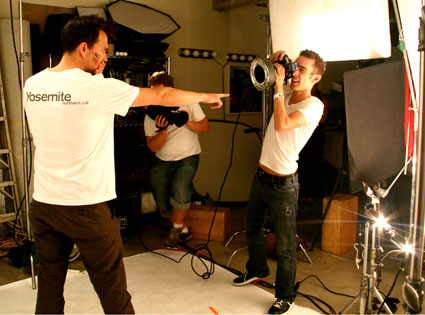 Spread NOH8
Shop the NOH8 store and spread the word about equal rights.
take action
We Are SBNN
Straight or gay...it doesn't matter. Learn how to show your support with Straight But Not Narrow.