We all know Jenni "JWOWW" Farley is passionate about Roger, dogs Bella and Noel and her BFF Snooki. But did ya know she's also devoted to LGBT rights, marriage equality and ending bullying?! She recently had a great chance to be an activist for all three things with the NOH8 Campaign.
Her photos from the shoot are out today so I chatted with her over the phone to learn more about it all! She was on her way to "Conan" during the phone interview (And Snooki was totally pushing buttons on the phone and giggling in the background! Ha!) Busy schedule or not, JWOWW was happy to talk about NOH8, how others can get involved, and how her engagement to Roger makes marriage equality feel more personal. And would she and Snooks march in a gay pride parade? Most def!
Photo: Boom! JWOWW looks so gorge in her NOH8 campaign! (Adam Bouska)
ACT: Why was it important for you to get involved with the NOH8 campaign?
JWOWW: I actually hit them up after a Twitter follower of mine goes, "I know you're big into anti-bullying. Have you ever thought about doing the NOH8 Campaign photo shoot?" I actually approached them on Twitter. I followed them and they followed me back. I messaged them so I wouldn't embarrass myself being like, "Hey, you guys want to do a photo shoot with me? I love your cause; I think it's amazing." They completely agreed. The first opportunity I got to meet with them, I did. It was a great experience. The story blew up because of human kindness. Don't hate on your fellow man. It's very inspirational.
ACT: How can people join you in helping to support marriage equality?
JWOWW: I would go to NOH8 [website]. I would take a stand for it and speak your mind about it.
Photo: JWOWW behind the scenes at her NOH8 photo shoot. (Instagram)
ACT: We totally think you should march in New York City's Gay Pride Parade in June. Would you ever do that?!
JWOWW: Oh, I would totally do that! I would make Nicole go with me. She would be down for that as well. Gay pride march? [Snooki squeals in the background] She said she would soooo go.
Photo: Further proof that duct tape works for…everything! (Instagram)
ACT: Congrats on your engagement! Does the fact you're engaged make your support for marriage equality feel more personal?
JWOWW: Thank you. Of course. My best friend, Joey, is gay and he was with his boyfriend Eric for seven years. He wanted to get married so bad for like the last four years. Three months before the law was passed, he went to a courthouse for the common law, and I don't want to say they disrespected him, but they just treated him like another number. It's my dream for him to have this huge wedding. So now that the law's passed, I want to go back and be able to do it again for him, kind of like a renewal of the vows, but have a traditional wedding. Because I think everyone, gay, straight, should be able to have that and cherish that and have all the pictures, the family, everything. It's really important to me.
ACT: Speaking of the wedding, how's the planning going?

JWOWW: No planning, no planning. I know I want a tight princess cut dress with boobs out and a bachelor/bachelorette party in Vegas.
Take action with the NOH8 campaign below and for more photos from the shoot, check out NOH8's website.
take action
Send in a Pic!
Send in a pic to the NOH8 campaign!
take action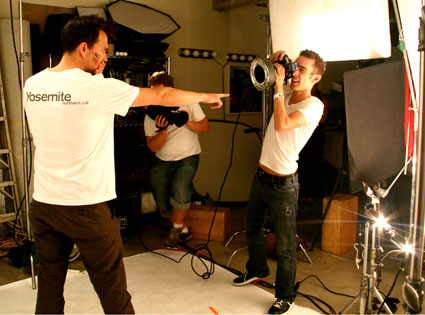 Spread NOH8
Shop the NOH8 store and spread the word about equal rights.