Mothers are living, breathing superheroes. They may not be able to fly (well, mama birds can), but their love and selflessness (and the mere fact that they carry us for 9 months and squeeze us out of veeeeery small spaces) are unparalleled. Today, in celebration of Mother's Day, and to thank our mothers for the 1,203,982,099 hours of labor they've collectively experienced, we've compiled a list of amazing, real-life moms who are taking action on their day.
+ Tracy Rodemeyer: Mother of Jayme Rodemeyer. Eternal optimist.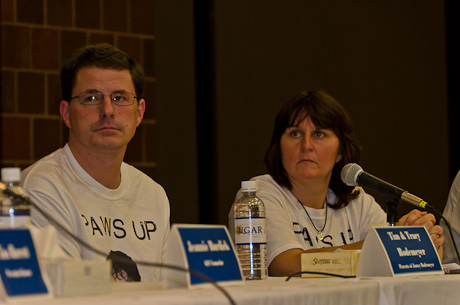 Photo: Getty Images
Tracy Rodemeyer's son, Jayme, took his own life last year after being constantly bullied for his sexuality. Since then, Tracy has become a spokeswoman against bullying — preaching tolerance and optimism, and asking bullies to realize the power and impact of their words. In an inspiring Mother's Day piece she shared with us, and posted on the Huffington Post, she says, "To all you children: look past what you see as criticism, and understand that you are so loved, more than you can ever imagine, but you may not understand or appreciate it until you are a parent one day."
+ Jennifer Tyrell: Lesbian Boy Scout mom.
Photo: AP Photo/Bebeto Matthews
Jennifer Tyrell was recently ousted from her position as a cub-scout den leader…because she's lesbian! This Mother's Day, support all moms, including Jennifer and anyone who has ever been unfairly discriminated against by tweeting #scoutsforall. GLAAD has also crafted tweets, greetings cards and other Mother's Day goodies you can share with your friends.
+ Sybrina Fulton: Mother of Trayvon Martin. Spokeswoman against gun violence.
Photo: Getty Images
According to the Second Chance on First Shoot campaign, 30,000 mothers lose their children to senseless gun violence every year. Sybrina Fulton recently lost her son, Trayvon Marton, to this very thing, and is now working with Second Chance to change dangerous gun laws around the country. Watch the video Sybrina recorded for the campaign.
+ Cynthia Germanotta: Mama monster. Co-Founder, Born This Way Foundation.
Photo: Getty Images
Mary gave birth to Jesus. Cynthia Germanotta gave birth to Lady Gaga. Cynthia co-founded the Born This Way Foundation with her daughter in hopes of empowering youth and encouraging pride and acceptance. In an interview with USA Today, Mama Gaga describes how she raised Lady Gaga in a loving and open environment: "What we did with her, with both of our daughters, is create an environment where they (felt) safe and able to express their own individuality." Check out the Born This Way Foundation to share and read stories about individuality and self-expression.
+ Michelle Obama: The First Mama.
Photo: Let's Move!
Apart from being the United States' First Lady, Mama Obama is helping moms everywhere keep their kids active and healthy with her Let's Move campaign. (Remember this awesome video Beyonce — who recently became a mother as well — made for the foundation?) When it comes to her love of mothering, whitehouse.gov put it best, "When people ask First Lady Michelle Obama to describe herself, she doesn't hesitate to say that first and foremost, she is Malia and Sasha's mom."
+ This Tiger
Photo: The Wondorous.
Those piglets in tiger vests aren't fooling anyone. This Tiger – at Sri Racha tiger zoo, in Chonburi, Bangkok – is probably the best mother on earth…for not eating her children. Cheer yourself (or your mum) up with more pictures of odd animal couples.
+ Katrina: the brave mama.
WATCH: Katrina opens up about her experience in an mtvU Against Our Will campaign video.
At 16-years-old, Katrina found herself trapped in a human trafficking ring, and now she's speaking out against it with mtvU's Against Your Will campaign. She became pregnant while being trafficked, and after many unsuccessful tries – managed to escape the ring with her baby son. Katrina is a brave mother and a strong role model, and for that, we send her lots of love and thanks!
+ Single Moms: My mom.
Photo: Getty Images
Mom. If you're reading this, I want the world to know how amazing you are. You raised my sisters and I on your own, while in school. You sacrificed your time, your dreams, and your money so that we could be happy. We always were. Despite how much we were struggling, you made sure of that. After my first breakup, when I cried on your bedroom floor for hours, whining, "I'll neveeeer looove againnnn!" you told me to "grow the hell up." You always tell it like it is. You taught me about the power and importance of women; of mothers; of single mothers. Thank you.
Justin Bieber recently dedicated his song "Turn To You" to his awesome single mom, Patti. He's also using proceeds from the song to help other single mothers. Mom, from this day forward, every time I listen to Justin Bieber, I will think of you.
take action
Born This Way Foundation
Join Gaga's anti-bullying foundation!
take action
Visit Against Our Will
Get the facts on modern slavery. Check out the mtvU Against Our Will website.