What's more stunning than Beyoncé just standing there? If you said "nothing," ooooh, child … You have NOT seen Sasha Fierce herself deliver a flawless live rendition of "I Was Here" at the United Nations General Assembly, surrounded by moving images of humanitarians in action worldwide. It's so stunning, it's one of five nominees for Best Video With a Social Message for the 2013 MTV Video Music Awards.
The "I Was Here" taping took place at the United Nations headquarters in New York City on August 10th, 2012. That night, King Bey performed the 4 single in one take in front of a UN audience that, for the first time, wasn't actually the UN. The end piece was a spectacular music video, which later premiered on World Humanitarian Day to honor people around the world who risk their lives daily to aid communities facing natural disasters, poverty and ongoing wars. The day, observed on August 19th every year, pays tribute to the 22 humanitarians who tragically lost their lives in a devastating bomb attack on the UN's Baghdad headquarters in 2003.
Incredibly, when Beyoncé released the video on World Humanitarian Day last year, she helped the United Nations successfully rally people to share over 1 billion messages of hope worldwide! And as that impact wasn't enough, Bey — along with a huge production army — created a remarkable visual that serves as a reminder of the impact we can make on each others' lives every day. Whether it's your first time watching or your billionth, it's a treat every time. Imagine … you're in a large auditorium that is draped from ceiling to floor with white material to create a big — like, really big — projection screen. As the projections begin to display, Beyonce makes her way to center stage in a flawless, white Marc Bouwer dress. The music goes on, and you begin to lose it. Now, push play below…
+ Watch Beyoncé, "I Was Here."
Pure slayage! Currently, the UN mobilizes $12.5 billion in humanitarian aid to help those affected by emergencies — that's in addition to the peacekeeping and conflict prevention the 192 nation members regularly take on. But no action is too small. You, too, can make it known that you were here. Leave your mark on the world and leave it a little better by joining the United Nations' efforts and taking action below.
Don't miss the 2013 MTV Video Music Awards on Sunday, August 25th, live from the Barclays Center in Brooklyn, and vote for your favorite Best Video With a Social Message by Monday, August 12th!
take action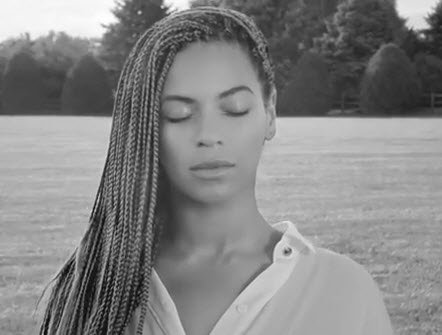 I Was Here
Do something good, somewhere for someone else with the UN's I Was Here campaign!
take action
Be A Humanitarian
Get involved with humanitarian efforts with the UN!