2012 was the year of the memes. From a flirting politician to a frowning Olympian, here are the year's top 10 memes with a message. Thank you, Photoshop!
+ Texts From Hillary
When Hillary Clinton isn't busy being Secretary of State and wearing the hell out of a pantsuit, she's…texting Ryan Gosling, of course! Well, that and scaring the crap out of the "Pretty Little Liars." This election year, viral political memes helped make politics engaging for young and disenchanted voters.
+ McKayla Maroney Is Not Impressed
The U.S. women's gymnastics team made history this summer when they won team gold for the first time since '96…but McKayla Maroney was not impressed. Therapists tried a double rainbow, a visit with the President, and even a trip to Mars, but nothing could make the poor girl smile! McKayla's teammate Gabby Douglas also made history as the first African American woman to win individual all-around gold.
+ Angelina Jolie's Leg
Angelina Jolie sure knows how to work the red carpet, but at this year's Oscars, only her right leg seemed to be doing the working. Angie recently announced that she might quit acting to focus on her children and charity work…but hopefully not before her left leg has its time to shine!
+ NASA Mohawk Guy
Curiosity landing on Mars was pretty cool, but the real star of the night was NASA Mohawk Guy, Bobak Ferdowsi. Can someone remind me why I ditched my space books for ballet slippers again?!
+ #2TERMZ
Tons of hilarious memes surfaced following Obama's reelection, but this #2TERMZ meme — inspired by rapper 2 Chainz — was so gangsta we had to share it! "I believe we can seize this future together because we are not as divided as our politics suggest," the President said during his victory speech. "We're not as cynical as the pundits believe. We are greater than the sum of our individual ambitions, and we remain more than a collection of red states and blue states. We are and forever will be the United States of America." Somebody cue some 2 Chainz the National Anthem!
+ It Gets Better
While there's still a lot to do, 2012 was marked by steady progress when it came to the fight for LGBTQ rights. This meme — the most shared on our Facebook page this year — is a reminder to all that it does get better, and that the journey to personal and public acceptance is one we can bravely take together.
+ Binders Full of Women
"I went to a number of women's groups and said, 'Can you help us find folks?' and they brought us whole binders full of women."
Mitt Romney said it (at the second Presidential debate), the Internet ran with it.
+ Ridiculously Photogenic Guy
Ridiculously Photogenic Guy is a meme featuring a photo of a young man running a marathon, and looking unusually handsome while doing so. If you like running (or just the ridiculously photogenic people who do), marathons are a great way to raise money for your favorite cause.
+ Skeptical Third World Kid
Let's be real — some versions of the Skeptical Third-World Kid meme are a little insensitive, but they touch on the important fact that not all people are born into lives of privilege and comfort, or even with the bare necessities. Here in America, 1 in 5 kids go hungry every day! 50 Cent taught me that.
+ You
You too can become one of 2012's most meaningful memes! Add your photo or artwork to (RED)'s digital quilt to show your commitment to an AIDS-free generation by 2015! Take action below to learn more.
take action
AIDS Free Generation By 2015
Add your photo or artwork to RED's (2015) Quilt!
take action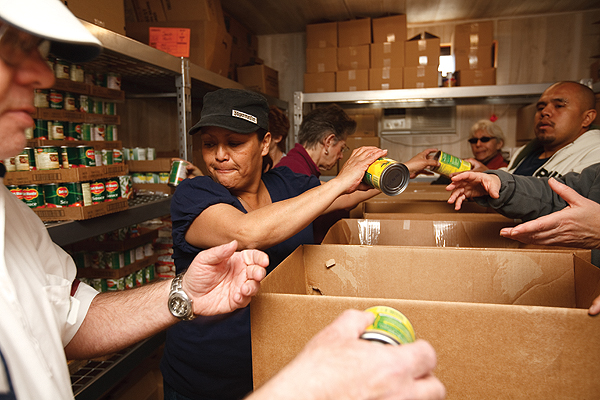 Launch A Virtual Food Drive
Spread awareness and set a fundraising goal to help fight hunger with Feeding America.