If you think celebrities are too cool for bikes, think again! It turns out some of the biggest names in Hollywood like to give their wallets, the environment and their chauffeurs a break every once in a while.
+ Beyoncé Bikes to Her Own Show!
Photo: (Beyonce/Instagram)
Beyoncé is so down to Earth! The billionaire diva recently biked across the Brooklyn bridge, and get this: it was on the way to her own show at the Barclays Center! Biking is probably how Bey stays so "Bootylicious," considering adults who bike have healthier weight, blood pressure and insulin levels.
+ Leonardo DiCaprio Rides the Big Apple
Photo: (Getty)
Leonardo DiCaprio was recently spotted pedaling through the NYC streets on one of CitiBank's new Citi Bikes. The public bikes are available to anyone in the Big Apple, and are both cost- and energy-efficient. The Titanic was neither of those things.
+ Macklemore Is on a Citi Bike
It comes as no surprise that the "Thrift Shop" singer is also down to get economical on a bicycle. The average American household spends $7,179 per year on gas. Just think of how many cool thrift-shop finds you could buy with the money you save by biking!
+ Jennifer Lawrence Ain't Too Cool to Bike
Photo: (Sultana / Splash News)
Even Oscar-winners ride bikes!
Jennifer Lawrence was recently spotted out and about on a bike that was given to her by her "X-Men: Days Of Future Past" producers. Speaking of superheros, you can save the environment just by riding your bike. According to the Environmental Projection Agency, one pound of  CO² is saved for every 1 mile pedaled rather than driven.
Celebrities do a lot of things that we can't do, but bicycling isn't one of them. So hop on your bike and enjoy the summer weather while it's still here!
take action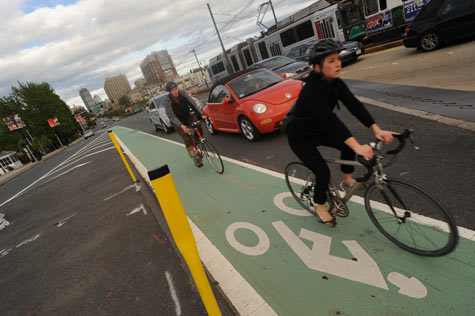 Read Up On Bike Safety
Before your epic biking adventure, learn a little more about bike safety.
take action
Charity Miles
Download the Charity Miles app on your iPhone or Android and walk, run or bike for a great cause.