Did you know the 'prettiest girl in the world'  is actually a boy? When he's not walking in high-fashion runway shows, twenty year-old Andrej Pejic, who graces the cover of OUT Magazine this month, is talking the complexities of the "gender spectrum." And, from the sound of it, he's not the only one who doesn't "get" all the hype.
Seven year-old Bobby and his Barbie didn't think it was weird to join the Girl Scouts last month. And Danaan, a young boy recently featured on Anderson Cooper's new talk show, never understood the "problem" with wearing dresses and liking make-up. So, why is gender bending still a big deal? Or, is it? If you look to the mainstream, it doesn't seem like anyone's too phased; Chaz Bono's a hit on DWTS, and Pejic is undeniably gorgeous on the cover of multiple renowned mags. But flip through the comment boards of multiple blogs highlighting the dude (who) looks (and feels) like a laaaady, and it's an entirely different story.
This Sunday, the transgender community and its allies will come together for the 13th annual Transgender Day Of Remembrance, in honor of those who were unfairly persecuted for being, well, themselves. Those who gather will hope for the day that we, as a generation, can come together and respect each other for who we are; for being, as Gaga would say, Born This Way.
In Out, Pejic says, "I would like to live in a world where your gender, nationality, sexual orientation, and, above all, financial status didn't affect the way you're treated by others…In a world like that, I wouldn't be given such a complex definition."
Think we'll get there, or is he totally trippin'?
take action
Stand in Solidarity
Stand in solidarity with the trans community.
take action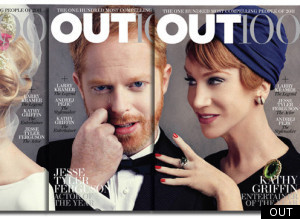 OUT's 100 Issue
Check out the LGBTQ idols in OUT's latest issue