Mashable's Social Good summit made such a scene on NYC's Upper East Side this week, you'd think the Gossip Girls were back in town. But instead of rich girls chatting stilletos,  the summit had celebs, sports stars and tech geniuses addressing the world's most pressing social issues. Below are my Top 5 moments:
+ Sports Stars and Social Good
Hearing Lance Armstrong talk to the packed house about the importance of his LiveStrong campaign topped my list. The organization, which he started by distributing the famous yellow wristbands, has grown to be a resource for empowerment within the cancer community. And then a day later, finding out Serena Williams is UNICEF's newest Good Will Ambassador! She's down to be 'worked to death' for the cause, she said.
+ Mandy Moore
Swoon! A celebrity that's more into raising awareness than rocking red carpets! Moore looked so cute in a Nothing But Nets BuzzKill t-shirt, and asked young people to "tweet, retweet, and get your friends to tweet" important facts about malaria.
+ FWD'ing In The Horn of Africa
Hearing USAID's commitment to helping families in the Horn Of Africa with the FWD campaign. "Drought, conflict and famine" is putting 13.3. million Africans in fatal danger, and all USAID is asking for is a donation or just a second to forward on (FWD) news of the tragedy, so that others may get involved.
+ The Money Quote
"84% of young people believe they can change the world for the better" via social media, said David Jones, co-founder of One Young World. I sat there thinking, #PREACH!
+ Christy Turlington
The supermodel totally knew about the MTV show Teen Mom, and has sorta made the show a part of her cause. She told me in an interview (featured below) that a  mission with her campaign Every Mother Counts is to raise awareness about unnecessary teen mom deaths due to lack of access to proper care.
take action
Spread The Word On Hunger
The FWD campaign wants you to forward info about 13 million people suffering famine, drought and war in the Horn of Africa.
take action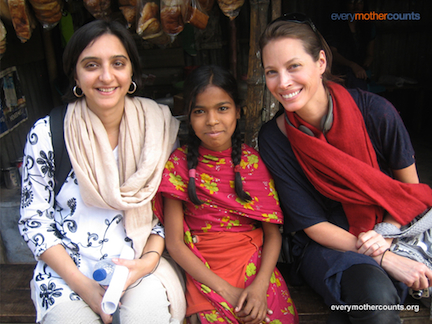 Donate Your Phone For Hope
Because who run this world? Girls. Every Mother Counts are collecting cellys for medical clinic in developing countries.