As Halloween comes to an end, we have scoured the latest paparazzi shots to see what our fave charitable celebs dressed up as this year. As there were quite a few to choose from, we decided to stick with five who stood out to us. Not only were their costumes creative, they each are tremendous givers that seem to always use their celeb platform for the better.
+ Colton Haynes as a Grumpy Grandma
As Season 2 of 'Arrow' is underway, and fans are drooling over the angelic figure of sir Colton, his Halloween costume was quite hilarious and may be the best I have seen this year. The actor dressed up as a rather, well, Mrs. Featherbottom from "Arrested Development," and did it so over the top it's amazing. With a long grey wig, big lips and white slippers, he's nearly unrecognizable. Colton's passion to put an end to bullying these past years has really inspired us. Through social media, the star has connected with fans on a personal level, helping to spread his message. Always remember that #LoveIsLouder than any negative voice you face.
+ Naya Rivera as Carmen Sandiego
Naya attended a Hollywood Halloween party in a Carmen Sandiego-inspired outfit. The A-list party was hosted by none other than Kate Hudson and was attended by other major stars like Fergie and Josh Duhamel. Naya has transformed into quite the LGBTQ activist. From her character on "Glee" to supporting the GLAAD Awards, she is helping raise awareness and break down barriers! #Respect
+ Jesse Tyler Ferguson as Batman
Jesse and his new hubby, Justin Mikita, went with a couple Halloween costume, dressing up as Batman and Robin. Could they be any cuter? The two are seriously doing such wonderful things, and their new foundation, Tie the Knot, is just one of their projects I admire. Each bow tie sold through their collection benefits a charity that is working to fight for marriage equality! L-O-V-E this so, so much!
+ Snooki as Wizard of Oz's Dorothy
Days before Snooki was voted off DWTS (BOO!), our MTV sis was all smiles when she stepped out with her adorable fam. Their costumes were all characters from the Wizard of Oz. Soooooooo presh! Snooki has stood proud in support of bullying, LGBT rights and more. We recently went behind the scenes of Snooki's NOH8 Campaign shoot  and saw the darling diva werk it for the camera.
+ Ellen as Nicki Minaj
Ellen is amazing — we don't need to tell you that. She gives and gives and gives some more. And with this costume, she gives us a view of, well, hey — they're not real! Nicki and Ellen are definitely buds, and this awesome costume pays homage to the dynamic duo.
Who is your FAVE out of these five? Comment below!
take action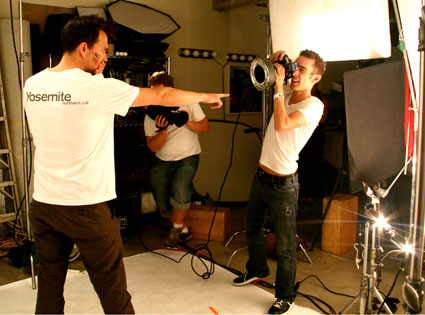 Spread NOH8
Shop the NOH8 store and spread the word about equal rights.
take action
Tie The Knot
Check out Jesse Tyler Ferguson's Tie the Knot. Stand for equality and look stylish!