We recently got a sneak peek at the 2013 Video Music Awards' seating chart, and, boy, is it gooood! From BFFs to people who may be meeting for the first time, here's how it's all goin' down at the Barclays Center in Brooklyn this Sunday … according to us.
+ Taylor Swift & Selena Gomez
Put two girls in their early 20s next to each other at any event, and they're bound to talk about one thing: boys. But after the requisite gossip, tears and text-message analysis ("What do you think Justin meant by 'hi'?"), we always seem to settle on the same thing: BFs come and go, but BFFs are, well, exactly what that extra "F" stands for: forever. (Unless your BFF gets with your BF.) At the end of their girl talk, Taylor Swift and Selena Gomez will conclude that BFF Love is Louder than any ole BF, and that "that dress looks really cute on you."
+ Lady Gaga & Katy Perry
Katy Perry and Lady Gaga have always given "Roar"-ing "Applause" to the LGBTQ community, encouraging fans to love themselves and others regardless of sexual orientation. After sizing up each other's outrageous outfits and celebrating the success of their new music, the ladies will gush over the Supreme Court's decisions in favor of same-sex marriage, then joke about who would be the hotter bride if they ever tied the knot. Both of their dresses would, no doubt, be memorable. Or maybe Gaga would opt to marry Katy as Joe Calderone — her badass male alter ego, who made an appearance at the 2011 VMAs.
+ Kanye West & Justin Timberlake

Justin Timberlake is receiving this year's Michael Jackson Video Vanguard Award for a lifetime of achievement in entertainment. Before his big moment, JT will jokingly ask Kanye not to interrupt his acceptance speech like he did to Taylor Swift during the 2009 VMAs. Kanye recently owned up to his mistake in an interview with his baby's mama's mama, Kris Jenner. "The last thing I would want to happen to my daughter is some crazy drunk black guy in a leather shirt to come up and cut her off at an awards show," Kanye told Kris. "That's the last thing I'd want … [but] anything considered a 'mistake' will help me make better decisions in the future." Way to be, Yeezy! Check out MTV's Half Of Us if you or a friend needs help making better decisions when it comes to drinking responsibly. 'Cause nobody wants to be the annoying drunk guy in a leather shirt.
+ Ed Sheeran & Drake

Drake and Ed Sheeran may look like polar opposites, but take their shirts off and they're one in the same. Well … kinda. Both fellas are tattoo enthusiasts with tons of cool ink. Ed recently became a tattoo artist himself, and if he plays his cards right (or if enough cocktails are had), Drake just may leave the VMAs with an "A Team" tattoo. And before you put  "A Team" tats in a category with butterflies and "tramp stamps," remember that Ed actually wrote "A Team" about a young sex trafficking victim whom he met while volunteering at a homeless shelter. That ink would be supahhhh deep, y'all.
This is all just speculation, but watch this year's VMAs, August 25 on MTV and VMA.MTV.com to see what really goes down! No sleep til Brooklyn! 
take action
Love Is Louder
Music is loud, but love is louder!
take action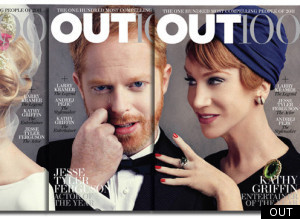 OUT's 100 Issue
Check out the LGBTQ idols in OUT's latest issue. Gaga and Katy want you to!